Can LEI codes be transferred? Here's everything you need to know about LEI Number transfer
The concept of legal entity identifier has enhanced transparency in the financial world. Its development has removed every trace of shadiness from financial transactions.
Now, we can tell who owns who and who owns what by simply looking up the LEI registration number associated with an entity.
No more hiding under the flagship of anonymity to perpetrate fraud, money laundering, and other shady financial dealings.
Legal Entity Identifier has brought normalcy to the game.
In this post, we want to explore the LEI space, touching on important subjects such as what are LEIs, how to get LEI registration done, where to get LEI, and above all, how to transfer an LEI code.
What is a legal entity identifier, and how do you obtain one?
Before going into the subject of LEI number transfer, it's important to first talk about how to obtain an LEI number. After all, you can only transfer what you've already obtained.
Even now, many legal entities still don't know much about LEIs or how to go about LEI registrations. If you're one such individual, count yourself lucky because we've created this section for you.
What is a legal entity identifier?
The Legal Entity Identifier, or LEI for short, is a unique registration number for identifying legal entities participating in financial transactions worldwide.
Issued by a local operating unit (LOU) and managed by the Global Legal Entity Identifier Foundation, LEI legal entity identifier helps financial institutions earn recognition and acceptance on a global scale. Anyone participating in financial transactions – whether locally or across borders – needs to have a legal entity identifier.
At its core, an LEI number comprises a 20-character alpha-numeric code, which translates to this:
Characters 1-4: Local Operating Unit (LOU) identifier
Characters 5-18: identification of the legal entity
Characters 19-20: verification of the identity of the legal entity
Finally, legal entity identifiers are based on the ISO 17442 standard developed by the International Organization for Standardization (ISO).
How to obtain a legal entity identifier?
Obtaining a legal entity identifier is a simple process. Here are the steps to follow to execute an LEI registration:
Find an LEI issuer to work with
LEIs are generally issued by local operation units (LOUs) – bodies which are accredited by the Global Legal Entity Identifier Foundation (GLEIF) to hand out LEI codes to legal entities. To obtain an LEI, you simply have to register on the website of any LOU that best interests you.
A common misconception amongst LEI seekers is that LEI codes can only be issued by an LOU operating in the same jurisdiction as you. This is not true.
GLEIF has made the concept of LEI so dynamic and unique that no two numbers can bear any sort of resemblance. As such, where you register your LEI wouldn't really matter as you're the only one who can have a number already issued to you.
Besides LOUs, you can also use small-sized registration agents to apply for LEI numbers. These agents, who are affiliated with LOUs, are charged with spreading the issuance of LEIs faster.
Buy from LOU or a registration agent?
When you want to buy a legal entity identifier number, you have to choose between buying from an LOU outright or working with a registration agent. Most people prefer the latter option because agents provide relevant LEI background knowledge, which is vital for LEI starters.
Besides, they also communicate with the LOU on your behalf while still offering additional packages like auto-renewals, fast-tracking, multi-year registrations, etc.
Our verdict: when you want to buy LEI, choose a registration agent.
Fill the application form
There's an application form to fill on the website of the legal entity identifier provider you choose. This form usually contains two data sections known as the Level 1 and Level 2 data levels.
Level 1 data level is where you supply entity-related information such as the following:
Legal entity name
Company number/registration ID
VAT Number (if applicable)
Applicant first and last name
Email and phone number
This first section of this LEI application caters to "who owns who" in the financial industry. With the information provided in this section, anyone looking up your legal entity identifier can affirm that you're a real person and that the right bodies accredit your business.
Level 2 data level is where you supply ownership-related information such as the business owners, parent name, and other "doing business as" details.
Next, you have to choose for how long you want to apply.
Technically, LEI registrations only last for one year, after which you have to renew your status. However, some registration agents offer multi-year LEI applications. In this case, you're encouraged to register for up to three or five years.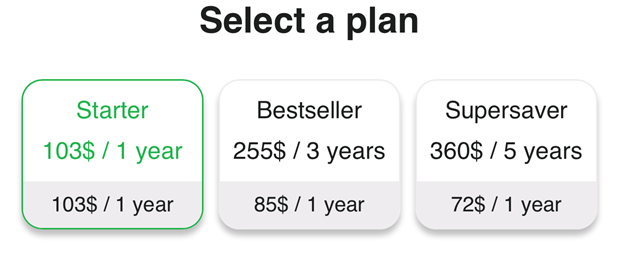 When you choose this option, you get to pay a lesser amount. Also, opting for multi-year registration pushes the burden of yearly renewal to the table of the LEI service provider. That is, once the year one mark is up, they simply renew your status on your behalf without you even knowing. The only scenario you're called to intervene is when you need to update the information on your LEI profile. Like, say, you've changed address or added a new owner.
Next, you pay for your application to be processed. Usually, you'll find popular payment gateways on the LEI provider's site.
Before the agent can finalize your application, they have to verify the information you provide to ensure there are no discrepancies or misrepresentation. Usually, verification is done by cross-checking the information provided against the data in the official business registry of your jurisdiction.
If you're applying with a provider operating in the same jurisdiction as you, your data validation process will be swift, and your LEI number will be issued in a matter of minutes.
However, if you're using a foreign LEI issuer, extracting the necessary information may take a while. In case your data isn't available in any local business registry, the agent will ask you to provide supporting documents such as a certificate of incorporation.
Once all boxes are checked, the legal entity identifier number will be sent to the provided email. And after a while, this code will reflect on the global GLEIF database.
Transferring LEI Code: What it means and how it's done
After obtaining your LEI code, you may decide to transfer it elsewhere. In this section, we're going to examine the reasons for doing that, as well as the steps to take to achieve that.
What is LEI Code transfer?
LEI code transfer refers to a situation where a legal entity transfers the management of its LEI profile from one LOU or issuing agent to another.
For example, say you register your business with a local LEI agent in your hometown. Then later, you decide to expand the business into a bigger city like New York. Instead of leaving the LEI management of your 'now global' brand in the hands of the local agent, you may choose to get a New York agent who'll move your profile into the database of a New York LOU.
What does it mean to transfer an LEI code?
When you transfer an LEI code, you're simply moving your LEI profile from one issuing agent to another. Or better still, from one LOU to another.
LEI code transfer doesn't mean the legal entity identifier number will change or that the associated data will change. It's only the details of the managing LOU that will change.
Reasons for LEI code transfer: Why do people do it?
Is there a particular reason why someone would want to transfer their LEI code? Yes, there are a couple.
Jurisdiction change:
The kind of service you get from an LEI issuer A may be different from B's. Often, this can be a function of jurisdiction.
For example, an LEI issuer operating in a certain jurisdiction may feel compelled to add some sort of customer onboarding experience in their package. In contrast, another working in another jurisdiction may see no reason for this.
A hypothetical scenario:
Say you run an investment business in a state where clients' social media profiles are not a part of the KYC requirements. It may be cool to use an issuer that doesn't require clients' social profiles to grant LEI.
If you now have to move to a state where social profiles are a key part of the KYC process, you may have to look for another issuer that caters to this requirement. In that case, LEI code transfer becomes a necessity.
In a nutshell, moving your business from one location to another may call for a different LEI setup. And in that case, the right thing to do would be to find an issuer that can cater to your current demands.
The beautiful thing about legal entity identifier numbers is that they come for different prices. Of course, the price you get depends on the issuing agent.
While issuers like Bloomberg might charge up to $90, smaller classed agents can charge you a lesser amount for the same service.
How does price relate to LEI transfer? You wonder.
Well, when you see an issuer offering you LEI management at a much more reduced rate than what you're currently getting, it's only logical that you'll want to move onto their platform.
The Global Legal Entity Identifier Foundation (GLEIF) has made the LEI issuance industry a fairly competitive one. This is to enable customers to find LEI numbers at competitive pricing.
If the experience someone is getting from an LEI issuer is far from impressive, they may decide to transfer their LEI codes.
For example, say you're not getting sufficient LEI support from a provider, you may decide to find another provider whose system resonates with you.
Imagine a scenario where your LEI provider takes too long to respond to email inquiries. You may decide to opt-out of their service and find a platform offering a better customer service.
Kinds of services offered
No two LEI providers can indeed offer exactly the same kinds of services. There will always be differences.
For example, some providers only deal in single LEI registrations, while others deal in bulk. Now, imagine you run a freight business where you need to register legal entity identifiers for yourself and a bundle of clients; you'll definitely need a provider that can handle bulk registrations. If your current LEI provider can't do that, you'll definitely need to transfer to a new provider.
Mind you, even those in the shipping and freight business need LEI.
Synchronization of LEI and KYC
Did you know it's possible to buy and manage LEIs for your clients? Yes, many companies do this. It's common amongst financial advisors, brokers, financial managers, investment companies, and banks. Usually, you'll find this type of arrangement in settings where the company is concerned about the LEI status of its customers.
Unfortunately, this kind of arrangement sometimes affects customer experience negatively. As you can imagine, customers will have to undergo validation for LEI. Then, after that, they'll still have to undergo another round of validation for the actual service they came for.
This can wear people out. And might make you lose customers.
Luckily, some LEI issuers have developed validation integration systems that merge LEI and KYC. With this kind of system, customers only have to undergo one round of validation.
If your current LEI issuer doesn't have any provision for LEI and KYC validation merge, you may be forced to jump ship any day you find an issuer offering such.
As it is in other internet spaces, user interface matters in the world of LEI, too. The way an LEI provider's website looks can encourage a user to stay or cause them to jump ship.
In other words, someone might decide to transfer their legal entity identifier number to another provider with a smoother website interface.
Additional services on offer (extras)
"It's not about paying $50 for your service, what other additional benefits are you offering me?"
That's the way every regular consumer thinks.
A user might decide to transfer their LEI if they find another provider offering more value for their money.
In this case, 'More value' could mean fast-tracking, discounted auto-renewal, LEI certificate, portfolio management, etc.
When can an LEI code be transferred?
As soon as you find a more pleasant provider. LOL.
That's saying you can transfer your LEI code anytime. Some people transfer a few days after registering with a provider. Some wait a few months. And some, a few years. It's really up to you.
However, it's always advisable to transfer at the time of the annual renewal. That way, you can begin on a clean slate with the new provider.
Transferring an LEI Code: How is it done?
To transfer your LEI code from one issuer to another, follow these steps:
Identify a new registration agent (or LEI service provider)
Before saying you want to transfer your LEI code, you must have identified a new agent you want to transfer.
This is usually the first step of the process.
To find a new agent, you simply have to highlight the reasons you wish to leave your old provider. And then look for providers offering the sort of solutions your previous provider was missing.
Once you find a new LEI provider, you can proceed.
Submit a transfer application with the new registration agent
Application to transfer your LEI code starts on the website of the new LEI provider you've identified.
Here, you'll inform the new provider that you're interested in transferring your LEI data to their jurisdiction and LOU.
Of course, you'll be provided with a form to fill.
Sign the Letter of Authorization (LoA)
To proceed, the new agent will ask you to provide a signed Letter of Authorization (LoA). This is to confirm that you know what you're doing. And that it's your wish to have your legal entity identifier number transferred.
Contact between new LOU, original LOU, and customer (you)
At this stage, the registration agent will forward your request to their LOU, who will also convey the message to your old LOU. Once the message reaches your old LOU, they will contact you to reaffirm that you desire to transfer.
If all goes well, the LEI code transfer will be facilitated.
How long does an LEI code transfer take?
Unfortunately, not so fast.
It can take up to 7 days.
However, you can fast-track the process by contacting your old LOU within the three days ultimatum period.
Conclusion
LEI code transfer is not a rigorous process. We only advise that you have a valid reason before proceeding with it.